Udo Matthias drums  percussion electronic comp
Schlagzeugunterricht Kandern
Beuys: Jeder Mensch ist ein Künstler!
s.a. Konzeptkunst
AtelierTheremin – analog synthesizers & sequencers, voice, theremin, el. guitarlele, steel guitar & incredible noise, wave drum and indian shrutibox – mind-shattering electronic psychedelic music performed live by Manfred Miersch, Slyder & Arne Paul Neumann –
with live analog visual projection by Hanna Zimmermann (l.)
The ZODIAC free arts lab (a.k.a. Zodiak) was the birthplace of the Berlin underground music and political scene in the late 1960s, where artists such as Klaus Schulze, Agitation Free, Manuel Göttsching and Ash Ra Tempel, Peter Brötzmann, Tangerine Dream, Kluster/Cluster as well as others all started their international careers – at that time, it was a hip underground location where music, art and politics merged and where the so-called Berlin School of electronic KRAUTROCK was established.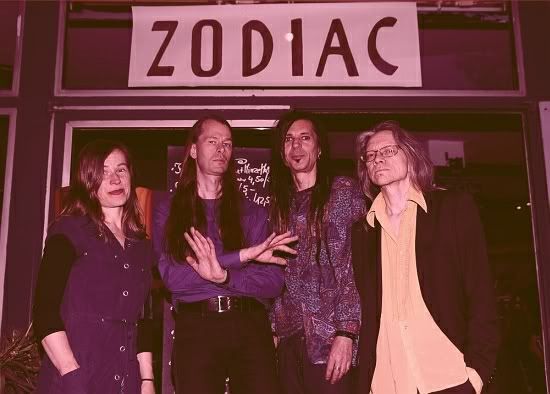 Conrad Schnitzler war der Begründer von Tangerine Dream und ein Elektronikpionier also auch des elektronischen Krautrock. Seine Ursprünge waren in Düsseldorf und er war als Bildhauer in der Beuys – Meisterklasse.
Er sagte: Ich kann auch als Nichtmusiker Musik machen!! Skulpturen und Performances aus Klängen.
Wie Peter Brötzmann, der bei Nam June Paik aks Assistent tätig war, bevor er ohne Rücksicht auf traditionelle Regeln Saxofon zu spielen begann.
Fluxus (lateinisch flux/fluere 'fließend', 'vergänglich') ist eine von George Maciunas begründete Kunstrichtung, bei der es nicht auf das Kunstwerk ankommt, sondern auf die schöpferische Idee. Fluxus wurde in den 1960er Jahren weithin bekannt. Nach dem Dadaismus war Fluxus der zweite elementare Angriff auf das Kunstwerk im herkömmlichen Sinn, das negiert wurde und als bürgerlicher Fetisch galt.
Fluxus wurde von namhaften Avantgardekünstlern wesentlich geprägt. Neben George Maciunas zählen dazu Bazon Brock, John Cage, George Brecht, Mary Bauermeister, Wolf Vostell, Arthur Køpcke, Benjamin Patterson, Emmett Williams, Dick Higgins, Ludwig Gosewitz, Alison Knowles, Yoko Ono, Robin Page, Tomas Schmit, Ben Vautier, Robert Filliou, Joseph Beuys und Charlotte Moorman.
Der Fluxus-Ansatz war äusserst gewinnbringend, denn vom Muckerzwang zum Spielenkönnenmüssen war man immer völlig frei!!
Diesen Ansatz finde ich auch heute noch enorm bereichernd, was nicht heißen soll, ich habe etwas gegen Theorie oder Studium. Nichts ist praktischer als eine gute Theorie. Nur ……????   Ästhetik???????
jojo mayer – intergalactic maiden ballet
Billy Brooks – Europe Bern
PETER GIGER – EUROPE
PIERE FAVRE – EUROPE
TERRY BOZZIO
DAVID GARIBALDI
Simon Phillips
Steve Smith
Was mir gefällt. Meine Wurzeln.

Roy Buchanan  -Instrument: Telecaster

Geboren am: 22.10.1936
(oder 23.09.39, es gibt hier unterschiedliche Aussagen)
Geboren in: Ozark
Gestorben am: 24.08.1988 in Fairfax
Todesursache: erhängt – Selbstmord
Mit 10 oder 11 Jahren habe ich mit meinem Onkel Charly Antolini in Lörrach in der Stadthalle gesehen. Ich glaube das war mit den Tremble Kids?? Danach wollte ich Schlagzeug lernen. Meinem Vater gefiel die Max Greger Big Band.
Max Greger Big Band
Lieblingsmusiker.pdf (Fortfahrung)
usw. usw.usw…..